Whether you are a backpacker traveling on a shoestring, a family of lesser means, or a senior citizen trying to make your pension/savings stretch to cover that longed-for trip to China, there are many ways to cut China tour costs. Read these seven points for how to plan a cheaper trip to China.
1. Plan Well in Advance and Be Flexible… and Patient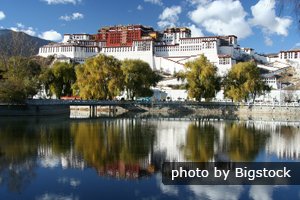 You don't need to go to the Potala Palace in Tibet to experience Tibetan culture.
You can use your research time to save money. There are all sorts of ways to have an inexpensive China trip. Here is your starting point! "Time is money", but beware the law of diminishing returns!
Putting a cost-saving itinerary together requires compromise. You may not be able to do all you imagined on your budget, but China is full of excellent-value alternatives. For example, you may not be able to afford a trip to Tibet, but there are Tibetan areas in Sichuan and Yunnan offering similar cultural and scenic attractions, accessible with less cost and hassle. (See Planning a Tibet Tour.)
Be patient! Don't book the first flight that you come across, or set your mind on the first itinerary that you like. Shop around, and get the advice of those who have got bargains before.
2. Don't Go at Expensive Peak Times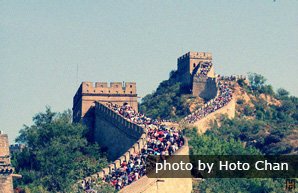 The Badaling section of the Great Wall is always full of tourists during Chinese public holidays.
Consider going off-peak to see China's attractions. This typically means traveling in the winter. Many attractions and hotels are cheaper, and you can save a lot on flights. See Best Times to Travel to China.
Our November to March weather pages for China and the main tourist cities include what to prepare for weather-wise, plus suggestions on the best things to do in those (usually) low-season months.
Definitely avoid Chinese public holidays, when prices can be two or three times higher! See Dates to Avoid.
Travelling off-peak has the added advantage that you will avoid the tourist crowds for a more tranquil and stress-free experience. China's winters, though (very) cold, are usually the driest times of the year. If you don't like heat or rain, then saving this way will be a pleasure!
Enjoy the same China holiday for less money! China has two distinct tour seasons — the high season and low season (November to March). In the low season you can save $100 to $250, depending on tour length and hotels. Most airlines offer low-season discounts, so flight savings of up to 60% are possible.
3. Use Cheaper Forms of Transport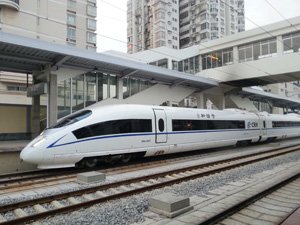 Taking a bullet train can be very cost-effective.
If you don't mind spending a bit more time between destinations, China's trains are a fraction of the price of domestic flights. The expanding bullet train network covers middle-distance journeys in a similar time to a flight (plus airport transport, formalities, etc.), but at half the cost or less. Long distance buses are even cheaper, though less comfortable, especially overnight.
In the cities, use public transport rather than taxis. Our attraction pages give details of what buses (and Metro trains in some cities) to catch. Walking or hiring a bike is an economical and healthy way to explore China.
4. Go to Cheaper (or Free) Sights, Eateries, and Hotels
Great Value Sights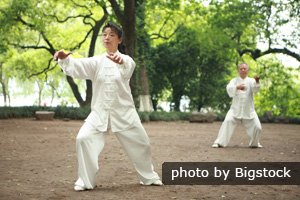 Watch Tai Chi for free in a park.
"The best things in life are free." Some of the best ways to experience China you don't have to pay anything for! — like watching tai-chi in a park, strolling along the Bund, or enjoying Hong Kong's beaches and country parks.
And some low-price attractions are great value for money, giving you something original that the most-visited sights do not, though facilities may be lacking. For example, Xianglu Temple near Xi'an will give you a wonderful view of the Yellow River, Buddhist culture, and Ming architecture for 10 yuan.
Budget Accommodation
With accommodation you tend to get what you pay for, though smaller cities further west are better value for money generally (see below). Make an honest assessment of what comfort level you can tolerate, and check the reviews.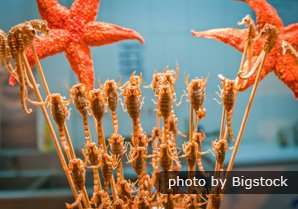 Taste the local snacks in a snack street.
Follow the Chinese for Cheaper Food
Visiting China's snack streets and "eating like a regular local" offer a mind-broadening and very-low-budget way to find sustenance. "Western" food is generally priced even higher than in the West, so if you can survive for a tour without a sandwich, real Italian pasta, or coffee you'll save dollars every day. China has no end of tasty alternatives.
Touring the Main Cities for Less
We have the following suggestions for China's top tourist destinations:
5. Explore Less Expensive Destinations
China has a huge depth of tourist attractions and destinations. You can have a rich cultural experience and impressive China visit without going to the likes of Beijing, Shanghai, and Hong Kong.
Be adventurous! Steer clear of the high-price-band cities, and, though the standard of accommodation and infrastructure may be lower, you can enjoy great-value days of discovery in China's lesser-known parts.
6. Don't Get Ripped Off When Buying Souvenirs, etc.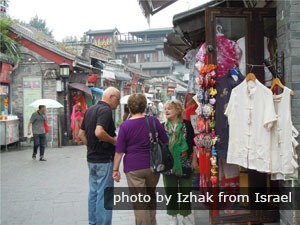 Bargain when buying souvenirs in China.
Always bargain (at length) if you see something you like. Street markets are usually the places to go for bargain-basement local specialties, rather than the "tourist supermarkets" or hawkers at the attractions.
(You may even consider buying your clothes etc. for the trip when you arrive in China, and take your saving home with you! There are some big savings to be had on imitation brand goods, though examine them carefully for poor quality.) See our guide to shopping in China.
Beware — there are several tourist mistakes that can absolutely ruin a trip (and cost you dearly). See The Top 12 China Holiday Wreckers.
7. Go Part-Guided, as a Group, and/or Arrange Your Own Transport
Some travel agents (like us) offer the option for you to explore on your own for some of your trip, thus reducing the guide cost. Some self-explanatory attractions lend themselves well to this; for other attractions a guide really is good value for money, saving time and immeasurably improving the experience.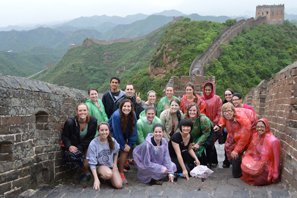 Traveling with a group
Most of our tours include free time in the evenings for you to discover your destination at your own pace and budget.
Most places and services offer group discounts. Though going with a group may limit your flexibility, costs for each item drop significantly.
Doubling up rather than going alone saves about 30% (mainly on hotels). Just look at the saving to be made — CHT-1 (Beijing–Xi'an–Shanghai, tourist class) for one person is $1988, but invite just one more person and pay only $1299 (2–5-person rate). Save almost $700.
Going as a group of six or more saves a further 10%. Savings increase with group size up to about 50 (a coach load). Great discount are available if you travel in a group of 5 or more, or join one of our organized group tours. We can get better deals from bus companies, hotels, and resorts for larger groups, and we pass these saving on to you. For the same itinerary, you could save $300–400 each.
Coach tours are the most economical, but notorious for "herding" tourists on a hurried and unagreed itinerary. We can provide transport and guides for large groups that will help realize your group's plans for less, rather than "herd". See 11 Reasons Your China Tour Should Be Private… Not a Group Tour.
Instead of being picked up from your hotel every day you could arrange to meet your guide at the sights, and find your own way to the hotel/airport/station. The more you are able to do yourself, the more you can save. We offer you the flexibility to be as independent as you want.
China Highlights