"Arxan: land of forests, hunters and nomads"

Celebrating Earth Heritage
Arxan UNESCO Global Geopark is located in the jurisdiction of Xing'an League in China's Autonomous Region of Inner Mongolia. Arxan is a mid-low mountain region situated in the southwestern part of the middle section of the Daxing'anling range. The elevation ranges from 820 to 1,750 meters, with an average of 1,100 meters. The UNESCO Global Geopark has a cold, temperate, continental monsoon climate, and the temperature is prone to drastic changes.
The area is located at the point where the eastern Tianshan-Xing'an fold zone meets with the Daxing'anling giant uplift belt of the Cathaysian tectonic system. It is a topographic boundary zone and a crust transition zone. As a volcanic-tectonic unit, it is part of the Datong-Daxing'anling Cenozoic volcanic zone. The UNESCO Global Geopark has abundant geomorphological landforms (volcanoes, granite peaks and rivers) and water landscapes (natural springs, volcanogenic lakes, scenic river reaches). Unique are the basaltic lava deposits, which due to gradually cooling have left a turtle shell pattern at the surface. The turtleback lava in Arxan UNESCO Global Geopark is the only large-scale, well-developed and intact turtleback lava in China and it is also rare in the world.
With 35 well-exposed Quaternary volcanoes, Arxan UNESCO Global Geopark has one of the densest appearance of volcanoes in any Geopark in China. The volcanoes and crater lakes are trending northeast and are densely distributed on both sides of the Arxan river valley.
There are five existing geo-trails in the Arxan UNESCO Global Geopark leading to important geosites, including Tuofengling Tianchi, Tianchi, Dichi, Shitanglin and the Turtleback Lava. These trails were built with different materials, to suit the locations and settings of the geosites and are in harmony with the surrounding nature.
Blessed with fertile soil created by weathered volcanic products, Arxan has 95% vegetation coverage and 65% forest coverage.
Media attending the activity "2015 Journey in Beautiful China-Inner Mongolia" started the journey in Arxan, a small city on the Sino-Mongolian border, at the southwest part of the Greater Hinggan Mountain Range, in the far northeastern corner of Inner Mongolia autonomous region, from June 14-16.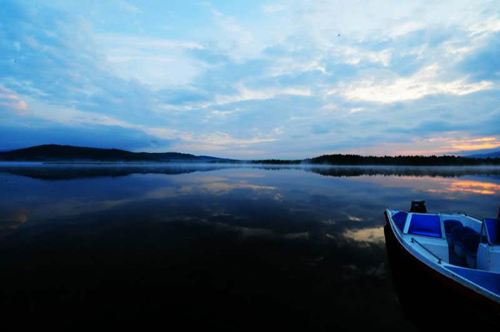 Arxan National Forest Park [Photo/chinadaily.com.cn]
Arxan, "hot holy water" in the Mongolian language, has 76 mineral springs.
Nestled at a high latitude, the city has very long winters with hardly any summer at all. It begins snowing in October, and the snow doesn't begin to melt until May the following year.
However, when the outside temperature has dropped to 40-50C below zero, the 20-kilometer-long river still flows with rich green grass. This river conditions are the result of its geothermal underground, which helps the area's animals to survive the harsh winters.
It's always common for cattle to be either in or close to the river. What a pleasure it must be to eat and bathe simultaneously in a hot spring. The livestock in Arxan are all free-range, according to locals. "Organized as they are, the livestock in one family are always led a head, and come out for food in a queue."
The mist, snow and peaceful animals, all help to create a fairytale environment.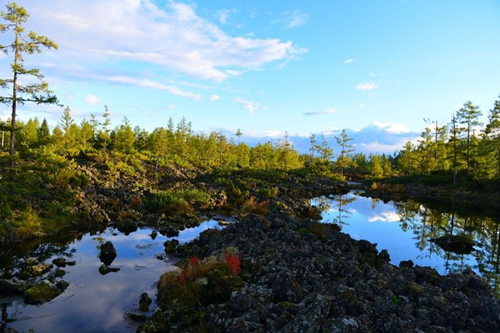 Arxan National Forest Park [Photo/chinadaily.com.cn]
Thanks to nature, Arxan has rich natural resources, such as wetlands, virgin forest, and canyons, in addition to beautiful snow, hot springs, rivers and lakes.
Arxan is widely known as having some of the purest land on earth due to the area's clean air and unspoiled environment. There are over 160 kinds of edible potherbs, featuring unique local delicacies.
The Arxan National Forest Park, a national 4 A-level scenic spot, covers 103,149 hectares, with forest coverage of 80 percent. There are 522 species of plants and more than 90 species of animals.
Arxan is also called "China's Alps", and attracts ski lovers from around the world. Except for being the ideal ski resort, there are also many other winter sports, like playing football on a snowfield or riding a motorcycle on the snow.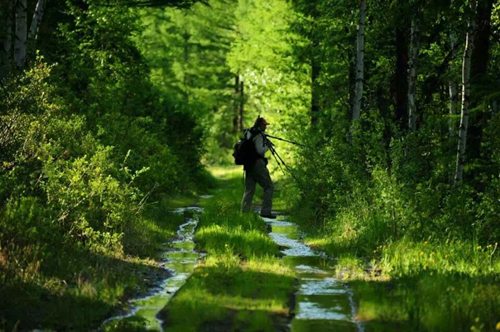 Arxan National Forest Park [Photo/chinadaily.com.cn]
Now, it has flights to Hailar, Manzhouli, Beijing, Hohhot, Shenyang, Hangzhou and Chongqing in peak tourist season. The flights to Shanghai and Guangzhou will be opened soon. Through trains travel to Arxan from Baicheng, Ulanhot, Shenyang, Beijing, Tianjin and Hohhot.