Aba Facts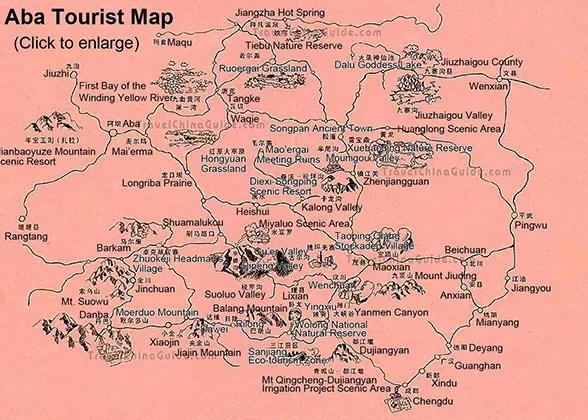 Aba Tourist Map (Click to enlarge)
Full Name: Aba Autonomous Prefecture of Tibetan and Qiang Minorities
Chinese Name: 阿坝藏族羌族自治州 (ā bà zàng zú qiāng zú zì zhì zhōu)
Location: Aba (Ngawa) Tibetan and Qiang Autonomous Prefecture is situated in northwestern Sichuan Province, the eastern end of the Qinghai-Tibet Plateau. It neighbors Qinhai and Gansu provinces in the north.
Population: 851,000
Area: 84,242 square kilometers (32,526 square miles)Nationalities: Tibetan, Qiang, Han
Administrative Division: 13 counties (Barkam, Wenchuan, Lixian, Maoxian, Songpan, Jiuzhaigou,  Jinchuan, Xiaojin, Heishui, Zamtang, Aba, Zoige, Hongyuan)
Useful Telephone Numbers:
Tourist Complaints: 0837-96927, 6224276
Weather Forecast: 121
Zip Code Inquiries: 184
Aba Attractions – Things to Do
Jiuzhaigou Valley Scenic and Historic Interest Area: Jiuzhaigou is named after the nine Tibetan villages in the valley. It is widely known as a wonderland with dreamlike sceneries and unique folk customs. Located in northwestern of Jiuzhaigou County, Jiuzhaigou has opened a 60-kilometer-long (37-mile-long) scenic line dotted by several scenic zones where visitors can admire the breathtaking landscape of lakes, waterfalls, springs and alpine valleys.
Huanglong Scenic and Historic Interest Area
: Located in the Huanglong Town of Songpan County, 100 kilometers (62 miles) from Jiuzhaigou, this scenic area is famous for the layered calcium carbonated deposit, colorful lakes, snow clad mountains and virgin dorest.
| | |
| --- | --- |
| Jiuzhaigou Valley | Huanglong Valley |
Wolong National Natural Reserve: Wolong is situated in the southwest of the Wenchuan County, 130 kilometers (81 miles) from Chengdu. It is well known as the home of the giant pandas. Apart from the great number of rare animals and plants, this natural reserve also boasts enthralling sceneries combining with mountains, waters, forests, caves.
Four Maiden's Mountain: Composed of four sister snowy peaks, the mountain has three valleys with majority of the scenic spots collected in the Changping Valley. Some people call it 'the alps in China', and it is preferred by a multitude of climbers.
Ruoergai Grassland: Located in the northwest of Sichuan Province, Ruoergai Grassland  is the vast home of Zang (Tibetan) People who mainly live on stock farming.
Flower Lake: It is a wetland in the vast Ruoergai Grassland. Its name comes from the small but beautiful flowers in the lake. This is also the origin of its name.
Wenchuan Special Tourism Zone: On May 12, 2008, a most damaging earthquake occurred in Wenchuan county. It was the 21st deadliest earthquake of all time and caused great loss of lives and property. The Chinese government did the best to help people to overcome the difficulties. Many foreign nations, international and domestic organizations as well as common people also offered quick assistance to the victims. After the earthquake, Wenchuan Special Tourism Zone was established to commemorate the victims of the earthquake, create more employment opportunities for the survivors and make more people learn of the culture of the Qiang and Tibetan ethnic minorities.
| | |
| --- | --- |
| Shangniba Temple in Songpan | Mutuo Qiang Stockaded Village in Maoxian |
How to Get to Aba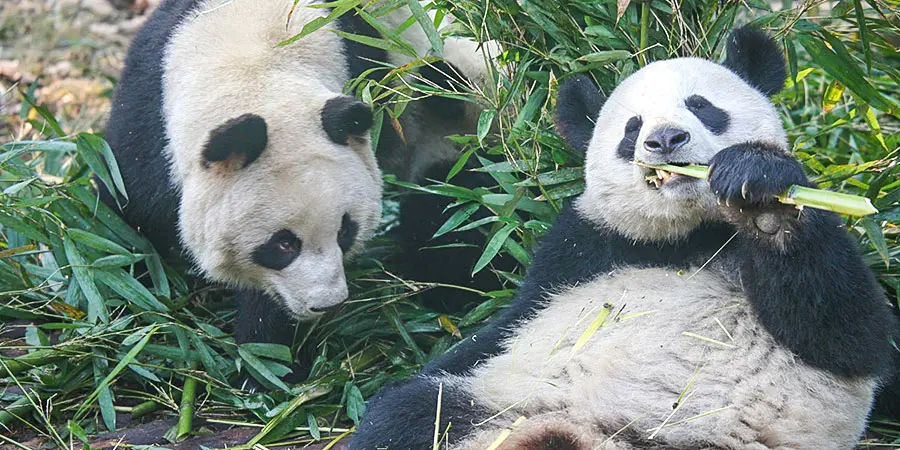 Wolong Panda Reserve
.1. Jiuhuang (Jiuzhaigou-Huanglong) Airport is 12 kilometers (7 miles) north of the Chuanzhusi Town, Songpan County. The airport is 88 kilometers (55 miles) from Jiuzhaigou Scenic Area, and 43 kilometers (27 miles) from Huanglong. Air distance from Jiuhuang Airport to Chengdu Shuangliu International Airport is about 240 kilometers (149 miles) for about 40 minutes' ride. There are dozens of flights daily from Jiuzhaigou to Chengdu, but much fewer in winter.
2. If visitors don't want to miss the natural beauty on the way, the best way is taking buses. Chengdu has two bus stations operating lines to Jiuzhaigou, Barkam, Zoige, Songpan, Zamtang and the Four Maiden's Mountain.
3. Visiting Aba, including Jiuzhaigou and Huanglong, spring or autumn clothing is necessary in summer for the temperature varies greatly during a day.
Aba Travel Tips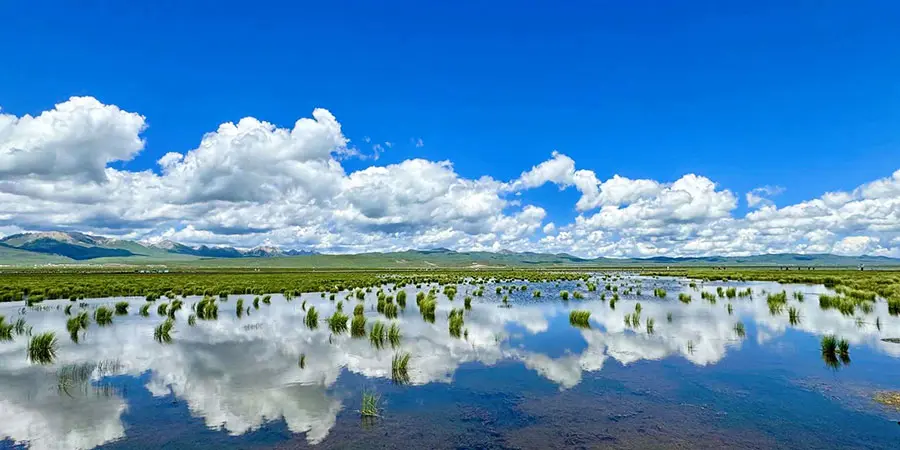 Ruoergai Grassland

 History: For thousands of years, a multitude of Chinese ancient ethnic minorities, including Qiang, Sienpi (Xianbei), Tubo and Hui, had worked collaboratively on the development of Aba, leaving the land abundant culture accumulations of ethnic minorities. The prefecture was changed into Aba Tibetan Autonomous Prefecture in 1955 and Aba Tibetan and Qiang Autonomous Prefecture in 1987.

 Physical Features: Tableland and alpine valleys make up the main landform of the prefecture. Parts of the Qinghai-Tibetan Plateau and the Hengduan  Mountains extend to its territory. Alpine valleys are mainly distributed in the southeastern part, while its northwestern land is plateau region. Minjiang River and Dadu River, tributaries of the upper Yangtze River, flow across this area which is the only place in Sichuan Province having the Yellow River flow through.

 Local Highlights: Festivals and folk customs of the Tibetan and the Qiang constitute the highlights of the prefecture. In addition, the International Panda Festival will be held in every September.

 Special Local Products: verbal medicine, Tibetan knives, embroidery of the Qiang ethnic minority