Overview and History Gulangyu Island
Gulangyu Island situates in the southwest of Xiaman, with a 600m Lu River sitting between them, and it only takes five minutes to get there by ferry. Covering an area of 1.87 km2, it has only 16,000 permanent residents. The weather on the island is cozy and fine, and there is no car on the island, with such tranquil environment, Gulangyu Island is also praised as garden on the sea.
Gulangyu Island had been the colony of western countries for nearly a hundred years since the First Opium War. Since then, preachers and merchants from western countries built various churches, mansions, schools, hospitals, etc. on the island. The island has made little changes since then. Now, there are thousands of well-preserved architectures of various styles (both Chinese style and western styles) on the island; thus, Gulangyu Island is also called as World Architecture Expo. Besides the architecture, western music was also brought into this island in 19th century, and the island raised many famous Chinese musicians. It's named as The Island of Music by Chinese Musicians Association in 2002.
And on July 8th, 2017, on the World Heritage Convention held in Poland, Gulangyu Island – a Historic International Settlement was declared a UNESCO World Heritage Site, and it is now the 52nd World Heritage site in China (China's World Heritage Site Lists). Compared to other world heritage sites, Gulangyu is young. However, for over 100 years, the 931 constructions of various styles, periods, and cultures have formed the feature of this unique place, and it perfectly represents the inclusive, multi-cultural, kind characteristics of Gulangyu and also the harmonious mixture of the modern human resident concept and local traditional culture.
Gulangyu Island is a very tranquil island, and the locals in the island live a relaxing and comfortable life here. The slow life in this place is the main reason of attracting so many tourists to Gulangyu Island.
Main Attractions on Gulangyu Island
Gulangyu Island is full of attractions, an old mansion, a specific museum, a featured shop or just a quiet street. Strolling around the island to find some special shops, and sip a cup of coffee or milk tea in dessert shop when you are tired – this is the best way to enjoy the island. Besides, there are many interesting attractions, which are definitely the must-goes on the island for tourists.
Recommended Xiamen Gulangyu Tour Packages
– 2 Days Xiamen City Tour with Gulangyu Island
– 3 Days Xiamen City Leisure Tour
– 5 Days Xiamen Golf Tour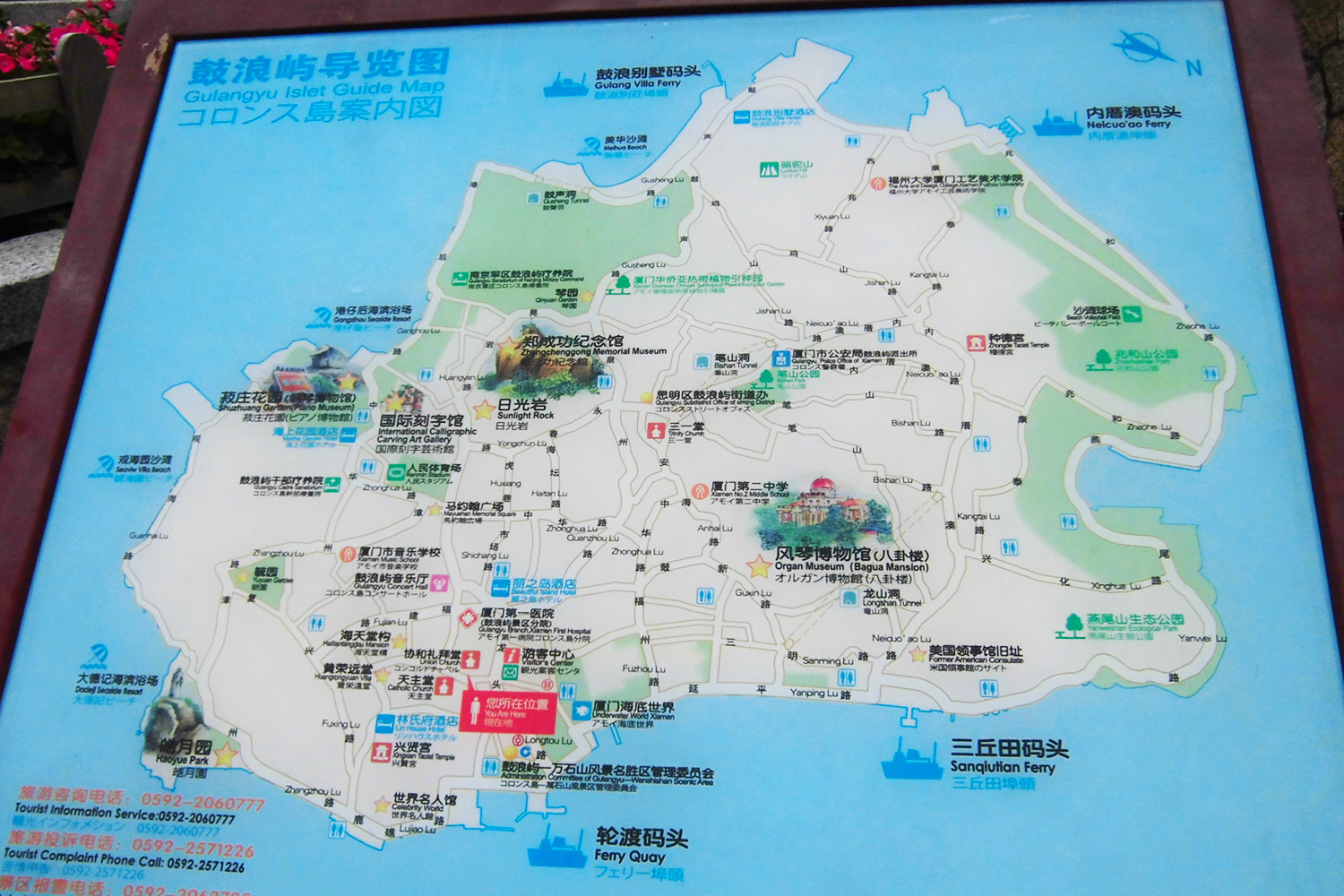 Click to Enlarge Gulangyu Island Map
Sunlight Rock Scenic Area
Sunlight Rock Scenic Area is located at the south-central of Gulangyu Island, and it can be divided into two parts – Sunlight Rock and Qin Garden. Sunlight Rock refers to two huge rocks, and they lean on each other, with one horizontal and the other vertical. With an altitude of 92.7m, Sunlight Rock is the highest point on the island. On the top of Sunlight Rock, there is a small platform, and tourists can overview Xiamen Island, Gulangyu Island, Dadan Island and Erdan Island on it. It's the best observation point on the island. Qin Garden is connected with Sunlight Rock by cable car, and there are mainly modern entertainment projects, which combines with the natural scenery in Sunlight Rock perfectly.
Sunlight Rock is the symbol of Xiamen. When the national hero – Zheng Chenggong (1624 ~1662) recaptured Taiwan, he had stationed his troops in here, leaving behind a lot of moving stories.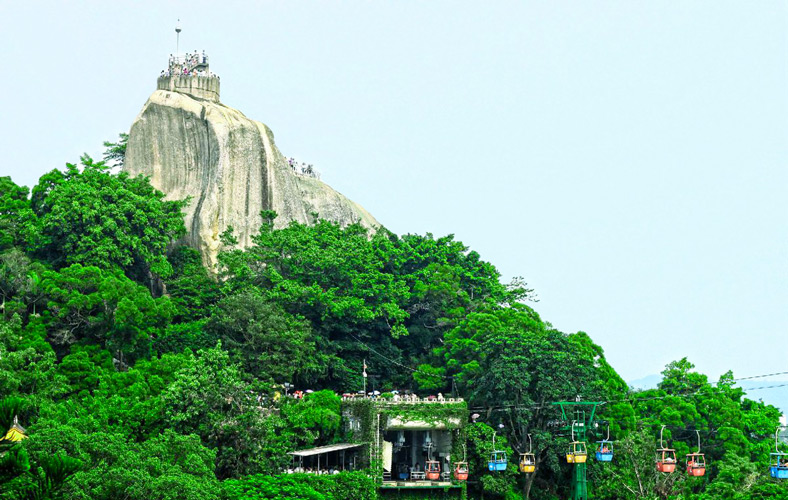 Sunlight Rock
Shuzhuang Garden
Built in 1913, sitting in the southern part of Gulangyu Island, facing the sea with Sunlight Rock sitting behind it, Shuzhuang Garden was once the private garden of Lin Erjia – a wealth Taiwan merchant. In 1955, the garden was donated to the government, and it's a public garden since then. The garden has two parts – Garden Hiding the Sea and Garden Making-up Hills, and both of them were layout taking the advantage of the natural terrain. Shuzhuang Garden has not only the delicacy and elegance of Jiangnan garden, but also the bright of Southern Fujian gardens. The most special part of the garden is about "Hiding the Sea": when you walk into the garden, a high wall will block your sight, however, once you walk out of the wall, boundless sea and sky will appear in front of you. This garden takes the sea, reef in the sea and even the tidal water as its decoration. It's impossible to see another garden with this design in China, and this is the most beautiful part about Shuzhuang Garden.
Piano Museum
Piano Museum is an interesting attraction in Shuzhuang Garden. Located at Tintaoxuan, it covers an area of 450m2. The museum has two floors, and it displays over 70 old pianos donated by Hu Youyi – an overseas Chinese pianist and piano collector born in Gulangyu Island. Many of the pianos are very precious, like the gold-plating piano, the oldest and largest upright piano, ancient hand-operation piano, etc. Many of the pianos had survived the two World Wars, and even the piano candle sticks have a history over a hundred years. A trip to the Piano Museum is just like browse the development history of world piano.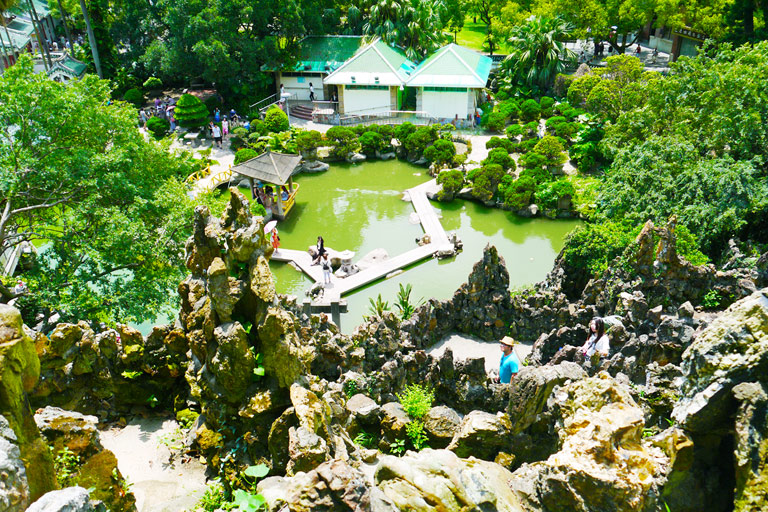 Shuzhuang Garden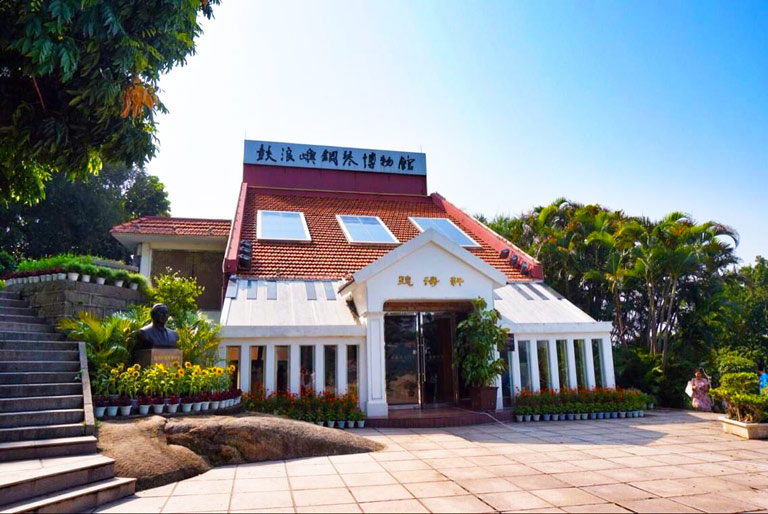 Piano Museum
Haoyue Garden
Haoyue Garden situates at the southeast of Gulangyu Island, with Lu River next to it. It's a memorial garden built to memory Zheng Chenggong, who successfully recaptured Taiwan in 1661. The garden is centered on Zheng Chenggong's sculpture, a 15.7m high granite rock sculpture, and architectures modeled after the architecture style in Ming Dynasty distribute around the sculpture. Together with the blue sky, white beach, grand sea tide, green trees and giant rocks, the garden represents a magnificent and beautiful picture. After arriving at the Ferry Quay, turn left and walk about five minutes, you can reach to Haoyue Garden.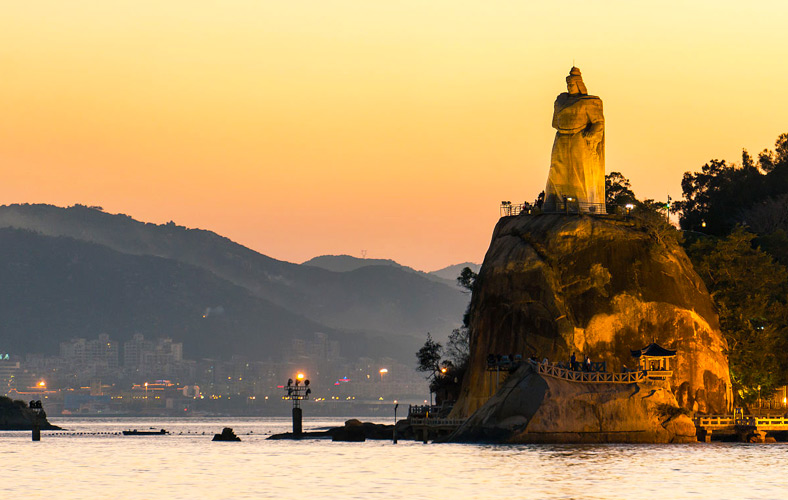 Haoyue Garden
Organ Museum
Organ Museum is located at Bagua Mansion in the northwest of Gulangyu Island, and it's the largest organ museum in the world (the only one in China). The exhibitions in the museum are also donated by Hu Youyi, just like the Piano Museum. The building of the museum combines various architectural style, including ancient Chinese architecture, Pakistani mosque, Athenian temple and Roman catholic church. The most important and largest collection in the museum is the giant pipe organ purchased at Boston by Hu Youyi, with 13m high, 12.5m wide and a weight of 35 tons. It's the largest pipe organ in China.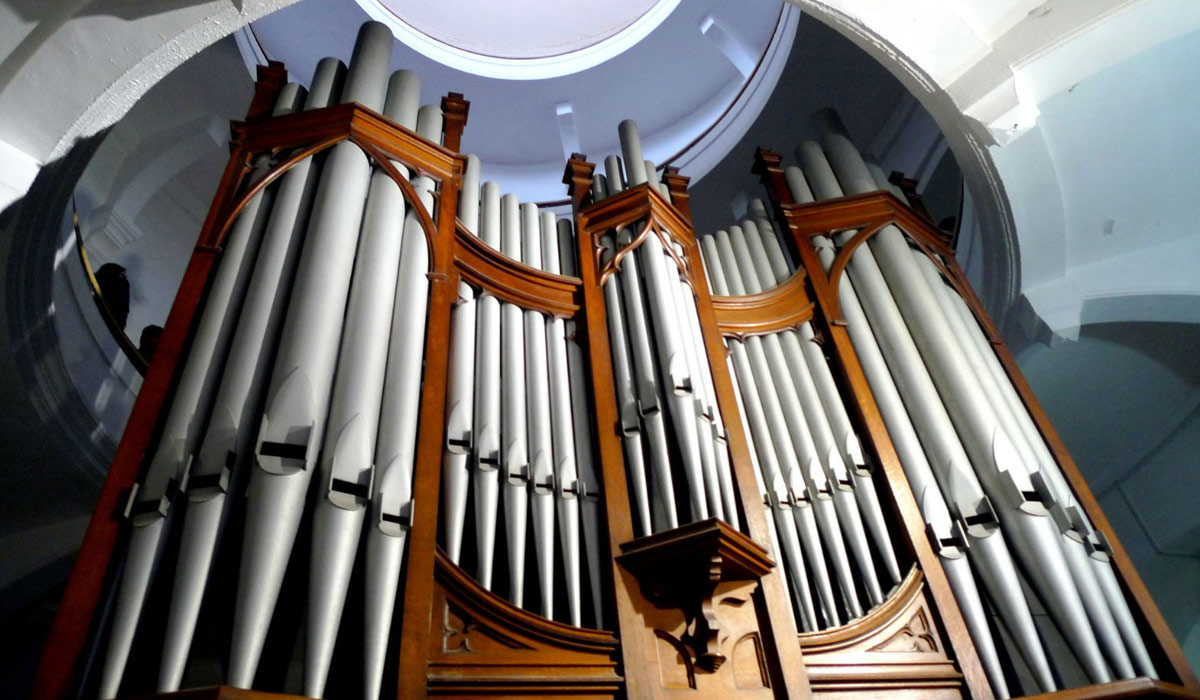 Organ Museum
Eat on Gulangyu Island
Eating on Gulangyu Island is not only a great feature, but definitely a enjoyment. You can savor the delicious food in luxurious hotel; or enjoy a afternoon tea in bourgeoisie coffee shop; or feast in the street stalls; or just pick up local snacks at stand stalls and eat while you tour around. All foods are delicious, and all eating methods are suitable here. Of course, seafood shall not be missed when you visit an island.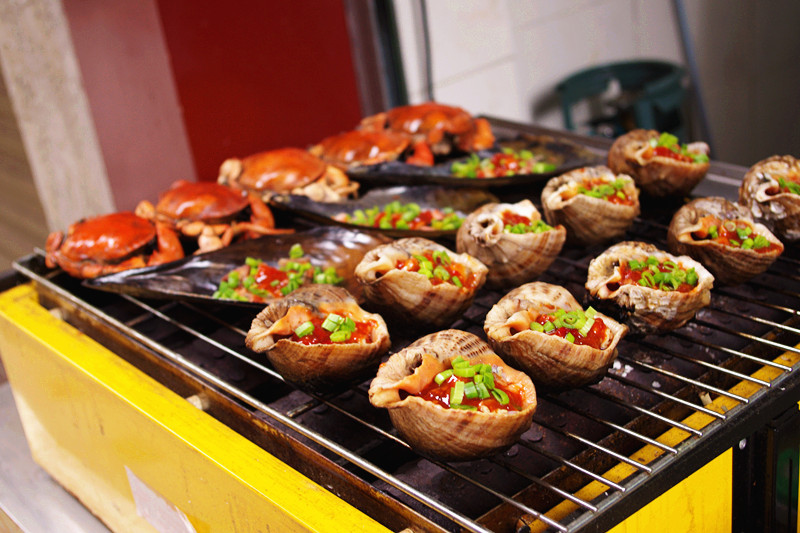 Eat on Gulangyu Island
Gift Shopping
Gulangyu has many specialties, so if you are here, don't forget to purchase some as small gifts for family or friends. The most classic specialties are Gulangyu pie, dried meat floss and seafood products. Gulangyu pie has various stuffing, like mung bean, ormosia, chesnut, etc. and famous brands are Sunlight Rock Pie and Wangji Pie. The most famous dried meat floss is Huangshengji Dried Meat Floss, and you can taste the flavor first, then choose the favorite one to buy. As for the seafood products, most of the specialty stores will sell various seafood products, like dried shredded squid and dried fish, and they are tasteful with rather fair prices.
Besides the food, you can buy some beautiful postcards to send to your friends. Other featured handiworks on the island are also good choices. Most of these specialties can be purchased at the small stores in Longtou Road.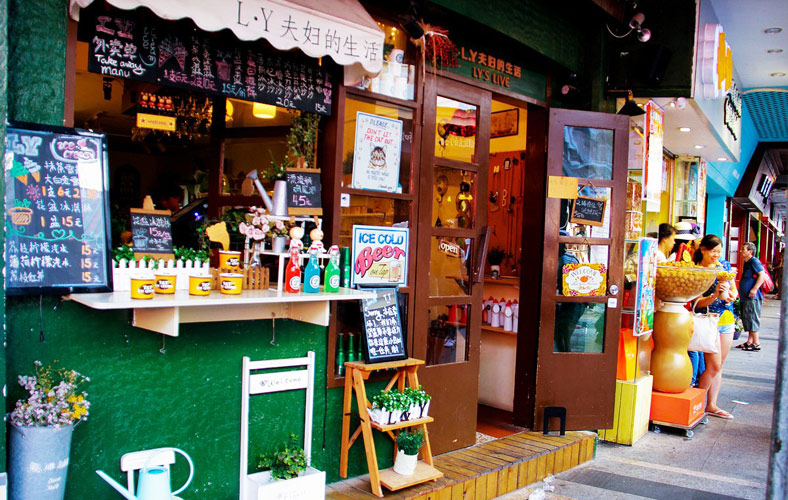 Gift Shop
Location & Transportation
Gulangyu Island is located at the southwest of Xiamen Island, and tourists need to take plane, train or bus to Xiamen first, then transfer with bus or taxi to get to the ferry pier, and take the ferry to Gulangyu Island, and taking the ferry will take about 5 minutes.
As for the ferry route, there are two kinds of route: route for Xiamen citizens and route for tourists. Tourists can only take the ferry ship at Songyu Ferry (嵩屿码头) and Youlun Ferry. There are three routes for tourists in total.
Songyu Ferry – Neicuo'ao Ferry (内厝澳码头) (in Gulangyu Island): the ferry will depart at the 30th minutes and 50th minutes of each hour with the first one is 7:30 (like 8:30, 8:50, 9:30, 9:50), and the last ferry in summer is 18:50, in winter is 17:50.
Youlun Ferry – Neicuo'ao Ferry: it will depart every 20 minutes from 07:10 to 17:30 (in winter) or 18:30 (in summer), and the round ticket for normal ferry is ¥35/person, for luxury ferry is ¥50/person.
Youlun Ferry – Sanqiutian Ferry (三丘田码头) (in Gulangyu Island): it will depart every 20 minutes from 07:10 to 17:30 (in winter) or 18:30 (in summer), and the price for round ticket is ¥35/person.
Notice: no matter what route you choose to get to the island, when you leave the island, you can choose any "back to Xiamen" route, and you don't need to fill the price difference if there is any.
Transportation on the Island
Besides the sightseeing battery car, there is no other vehicles available on the island. So, it's all on your feet. As for the battery car, it will drive around the island and the overall length is about 6km. the ticket is ¥50/person, and no limitation for the riding times in the same day.
Running time: May 1st ~ September 30th: 7:00 ~ 19:30; October 1st ~ Next April 30th: 7:00 ~ 18:00
Ticket
To get to the island, the ferry fee is ¥35/person for most route, and the luxury ferry is ¥50/person, and this is a round way ticket. The island itself has no entrance ticket, however, some attractions on the island need entrance fees.
Sunlight Rock Scenic Area: ¥60/person
Shuzhuang Garden (including Piano Museum): ¥30/person
Haoyue Garden: ¥15/person
Organ Museum: ¥20/person
International Calligraphic Carving Art Gallery: ¥10/person
The coupon ticket for the above five attractions: ¥100/person
Tips:
1. Accommodation
There are many accommodations on the island, and basically, they are all distributed in the ferry area, ancient building area, and the seaside area, etc. The most famous and popular accommodations on the island are home inns, which are very suitable for petty bourgeoisie. Most home inns are converted from old villas, ancient but elegant, sweet and romantic. Price for normal rooms are charged from ¥100 ~ ¥200 per night, some rooms with sea views are more expensive, normally higher than ¥300. The accommodation on the island is slightly higher than Xiamen, so if you want to find more budget rooms, please stay overnight at Xiamen. (Learn more about Xiamen Accommodation)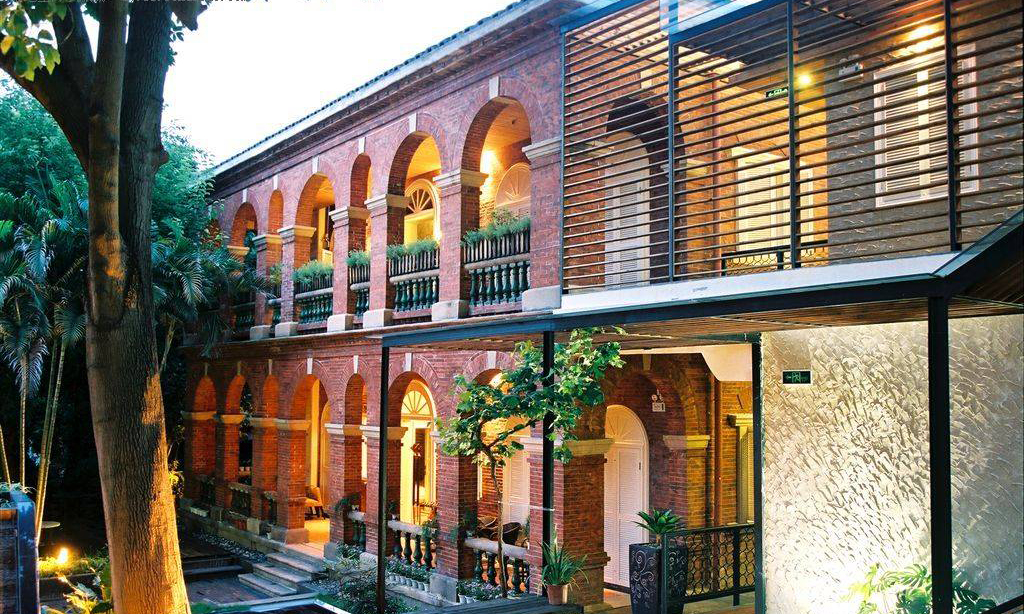 Family Inn on Gulangyu Island
2. Best Time to Go
Gulangyu Island is featured in subtropical maritime monsoon climate, and it's warm and humid all year round. Temperature in summer and winter is also comfortable. The best time to go is spring and autumn. Spring is the rainy season, so prepare rainproof. Summer is the tourist peak season, and it's great time to play water; however, the island is easily hit with typhoons, and the ferry will be suspended when there is a typhoon. Autumn is comfortable, and this is the season for tea-picking, tourists can experience the slow life here. Winter is also very warm here, and the trees and flowers are still nourishing during this time. (Learn more about Xiamen Weather)
3. Notice
There is no car on the island, so tourists need to walk a lot. Make sure you wear a pair of comfortable shoes.
China Discoveries