Established 750 years ago, the Nanxun Ancient Water Town developed during the Ming Dynasty (1368-1644 AD) into one of the richest towns in China. Silk was the product which brought enormous fortune to merchants in the town. With the arrival of the marine Silk Road, merchants not only did more and more business with westerners, but also learnt advanced science and ideas from their business partners.
Local merchants admired both Chinese and Western culture, so they decided to build their houses according to both Chinese and western styles. Fortunately, Nanxun survived countless wars and revolutions over the last 750 years, and it is better preserved than most other ancient water towns.
Unlike some other ancient water towns, Nanxun is still inhabited. Furthermore, it is free to visit the town after 17:00 each day. Although tourist attractions and most shops will be closed after 17:00, tourists can still take a stroll through the town and observe the local people's life. In some respects, the authentic town only emerges after 17:00 anyway.
Nanxun Ancient Town is not as famous as other water towns in South China, such as Zhouzhuang, Tongli, and Wuzhen. It is thanks to this that Nanxun has managed to retain its original features and traditional culture. It is recognized as the most authentic and tranquil water town.
With a history of over 1,400 years, the town came to prominence during the Southern Song Dynasty (1127–1279) due to its prospering silk industry. In the Ming Dynasty (1368–1644), it was one of the important commercial centers.
Chinese: 南浔水乡 Nánxún Shuĭxiāng /nan-sshwnn shway-sshyang/ 'South Xun (river name) Water Town'
Location: 1½ hours from Hangzhou, 2 hours from Shanghai
Highlights: bridges, lanes, ancient buildings, rich cultural heritage
Activities: seeing ancient buildings, boating, walking, photography
Recommended stay: 1–2 days
Admission fee: 100 yuan per person
Why Nanxun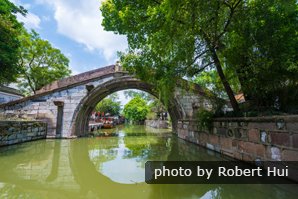 An ancient bridge in Nanxun
Nanxun Water Town shares the typical features of other southern water towns: arched bridges, canals, narrow lanes, and old houses. But, for several reasons, Nanxun is the pick of the crop.
Nanxun is one of the relatively least visited water towns in the area. You won't find the huge crowds that swarm Zhouzhuang, Tongli, or Wuzhen. You can visit it at your own pace.
This town is less commercialized than many of its competitors. It is more authentic and soulful. You will see local people washing clothes, sipping tea, or playing cards beside the water.
The town has an interesting mix of European styles, which makes this place a little different from other water towns.
Besides sightseeing, you will be provided with a rich cultural experience, such as making Chinese writing brushes.
The Highlights You Should Not Miss
Walking alongside the canal in the old town, you will feel like you are walking into China's past. In addition to average houses, there are a few big family houses that accommodated well-known wealthy families. These houses often combine traditional Chinese styles with Western influences.
Little Lotus Garden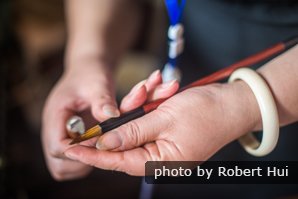 You can learn how to make a Chinese writing brush in Little Lotus Garden.
Little Lotus Garden (小莲庄) was a private garden of Liu Yong who was once the richest person in Nanxun. It is a fascinating mix of a garden, lake, pavilion, rockery, trees, and lotus flowers. It is one of the five most famous classic gardens in Nanxun.
The best time to visit the garden is in summer when the lotus pools are full of blooming flowers.
Besides enjoying its idyllic beauty, you will have a chance to see the traditional procedure for making Chinese writing brushes, and even make your own one.
Baijianlou
Baijianlou (百间楼), or the "100 houses complex", is a perfect place to see the well-preserved traditional residential buildings.
Built 400 years ago, the houses extend along the canal for a length of 400 meters (1,300 feet). They are not restored and have kept their ancient and local charm. The Chinese old town lifestyle still exists there and can be seen along the canal by small numbers of tourists.
Liu's Family Compound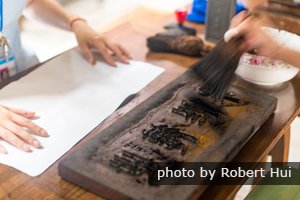 You can learn Chinese block printing at Nanxun.
Liu's Family Compound (刘氏梯号) or Red House is a good example of the Chinese imitation of Western styles. It features a classical portico and a red-brick residence with French balconies and stained glass in the windows.
In this residence, you will have a chance to learn Chinese block printing, an old type of technology used for making books. You can try your hand at printing and use your own brush to write your name in Chinese.
Zhangshiming's Former Residence
Zhangshiming's Former Residence (张石铭旧宅) is known as the "top private residence of the Jiangnan (southern part of the Yangtze River) region", and is one of the few such residences remaining that retains their original appearance. It offers a unique mix of Western ballrooms and Confucian family altars.
Wedding Performance on the Water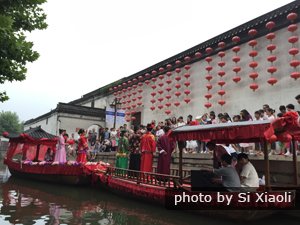 Wedding performance on the water
Apart from historical sites, you will be impressed by a wedding show on the water. The boats are decorated with red flowers and ribbons, the bride and groom are dressed in the traditional Chinese style, and traditional music is played on ancient instruments. All of these depict how a traditional wedding was conducted in the ancient water town.
If you like, you can take part and play the bridegroom!
How to Get to Nanxun Water Town
There are many shuttle coaches running from Shanghai, Hangzhou, and Suzhou to Nanxun.
From Shanghai
Bus stations: Shanghai Long-Distance Bus Station, Shanghai South Long-Distance Bus Station, Pudong East Bus Station
Cost: about 50 yuan per person each way
Journey time: about 3 hours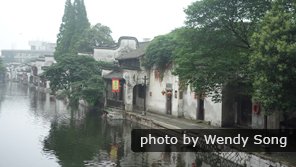 An authentic and tranquil town
From Hangzhou
Bus station: Hangzhou North Bus Station
Cost: about 45 yuan
Journey time: about 2 hours
From Suzhou
Bus stations: Suzhou South Bus Station, Suzhou West Bus Station
Cost: about 25 yuan
Journey time: about 1½ hours
The Best Time for a Visit
March to May is the best time to visit Nanxun when the weather is comfortable and the spring scenery is beautiful.
Fall is also a good season to travel Nanxun for the cool weather and clear sky.
Winter is quite cold (above freezing) in Nanxun, but driest, and you can enjoy a less-crowded time there. If you visit it in the heat of summer, avoid the midday crowds, and be careful of heatstroke.
You'd better avoid weekends and Chinese public holidays, such as Labor Day (May 1 to 7) and National Day (October 1 to 7), when Hangzhou is always crowded with Chinese people.
Tour Nanxun Water Town with China Highlights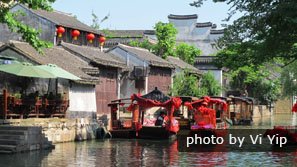 If you are tired of the commercial atmosphere, crowds, and noisy megaphones in Zhouzhuang and Tongli, you should pay a visit to Nanxun Water Town.
China Tour