Huangguoshu (黄果树) Waterfall, is one of the largest waterfalls in China and East Asia located on the Baishui River in Anshun, Guizhou province.
Located in Guizhou province, Huangguoshu became one of China's first officially recognized national parks in 1982. It's also the earliest recorded waterfall in Chinese literature, the country's largest waterfall and one of the largest waterfalls in Asia.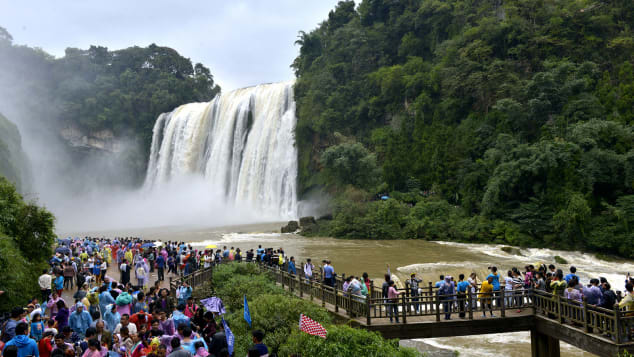 There are mainly three National Parks in this waterfall national park: Waterfalls Cluster, Water-Curtain Cave and Rhinoceros Pool (Xi Niu Tan).
Waterfalls Cluster
Huangguoshu is the best known of some 18 in a cluster of waterfalls. Its flow is seasonally adjusted. A reservoir behind the waterfall holds back some of the water. Doupotang Waterfall, one kilometer (less than one mile) up the river to Huangguoshu Waterfall, at 105 meters (344 feet) across is the widest. It is 21 meters (69 feet) high. Other waterfalls like LuosiTan Waterfall, Silver-Chain Waterfall and Dishuitan Waterfall all have their distinct features.
Water-Curtain Cave
The Water-Curtain Cave dissects Huangguoshu and provides visitors view ports on the waterfall. The total length of the cave is 134 meters (440 feet), including windows and halls. A road on the mountainside leads into the Water-Curtain Cave, where the fall can be heard, watched and touched. On a sunny day, a rainbow arches over the falls.
Rhinoceros Pool (Xi Niu Tan)
Eleven meters (36 feet) deep, the pool is Rhinoceros shaped and stays submerged year round. Standing inside Water-Viewing Pavilion (Wang shui Ting) beside the Rhinoceros Pool to enjoy the flowing-down of the Huangguoshu Waterfall, you may feel bunches of pearls and silver chains are falling upon you. What a grand and peculiarly attractive scene.