Libo Zhangjiang Scenic Area
荔波樟江风景名胜区
Located in Libo County, Qiannan City of Guizhou Province, Libo Zhangjiang Scenic Area is characterized by unique Karst landscapes, mysterious dense forests, various living species, splendid overlapping mountains, and clear rivers and lakes. Because of the well-preserved ecological environment, the area is honoured by both Chinese and overseas experts, as "an unparalleled, well-preserved green gem unmatched by any other Karst sites in the world". As a famous tourist attraction, there are altogether three main scenic areas to visit: Xiaoqikong, Daqikong, and Shuichun River.
The scenic area mainly consists of the Xiaoqikong (Small Seven-hole Bridge) Scenic Zone, Daqikong (Large Seven-hole Bridge) Scenic Zone, Shuichun River Scenic Area and Zhangjiang River Scenic Area. The former two, dubbed "Little Jiuzhaigou", unveil a wide array of waterfalls, streams, lakes, forests and fantastic caves.Libo Zhangjiang Scenic Spot is located in Libo County, southern Guizhou, covering an area of about 273 square kilometers. Dubbed a "green gem", this national scenic area features wild karst forests interwoven with beautiful waterscapes and striking valleys and mountains. The area, together with the Maolan National Nature Reserve, an amazingly beautiful karst forest rarely seen in the subtropical zone along the same latitude, was named a World Natural Heritage site in 2007 for its fine examples of karst scenery.
Of all these attractions, the 12-kilometer-long Xiaoqikong Scenic Zone stands out as the most popular one, highly reputed as a life-size miniature garden. Visitors will marvel at the spectacular sights of the ancient stone bridge where the attraction got its name, a 68-layer waterfall, Laya Waterfall, Guibei Mountain, Yuanyang Lake, as well as the water forest. The water forest provides great views of bizarre plants growing in the water.
Xiaoqikong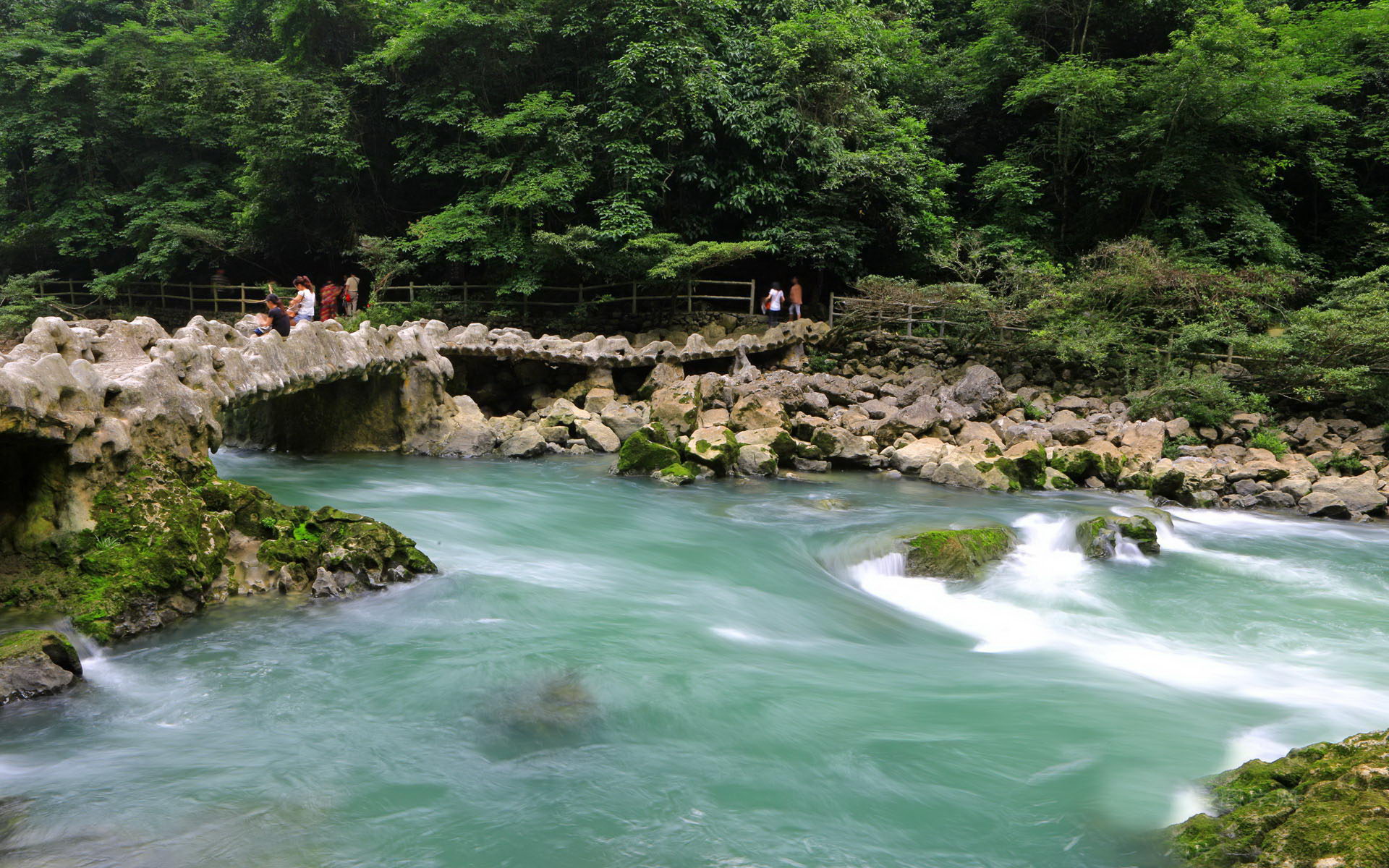 Stone Bridge
Honoured as "Small Jiuzhaigou", Xiaoqikong Scenic Area is best known for the seven-arched Xiaoqikong Bridge, which is a landmark of Libo Zhangjiang Scenic Area. It was built in 1835 on a vital traffic road in ancient times between Qiannan City and Guangxi Zhuang Autonomous Region. With a length of 44 yards (40 meters), a width of 2.4 yards (2.2 meters), and a height of 6.0 yards (5.5 meters), the bridge shows delicate structures and exquisite craftsmanship.
Due to continuous erosion, Xiaoqikong Scenic Area has evolved into the deep V-shaped Xiangshui River Valley, which is home to plunging waterfalls. In the upper reaches of Xiangshui River, Laya Waterfall seems to link with the sky at the top surrounded by clouds. Near Laya Waterfall, a 68-step waterfall flows down at random along a winding river less than 1 mile (2 kilometers). Downstream of Xiangshui River, the Green Valley Waterfall is surrounded by high green mountains which colour its water with green.
To the west of Xiangshui River Valley, Mandarin Ducks River, Heaven Bell Cave, as well as Wolong Valley are nestled. Mandarin Ducks River, as a typical Karst Blind Valley river, is about 50 acres (0.2 square kilometers). It takes one hour to visit by boat. Heaven Bell Cave is a Karst cave enjoying landscapes such as stalagmites and stone curtains. Decorated by colourful lights, it is like a fairyland. Wolong Valley is a rafting resort. The rafting begins from Wolong Pool and ends upstream of the Mandarin Ducks River taking a total time of 1.5 hours.
In addition, Water Forest and Rock Forest are great Karst forest wonders of Libo zhangjiang Scenic Area. Water Forest stands in Xiangshui Riverbeds. Although submerged by rushing water, they grow well. About 100 yards (91 meters) east of Water Forest, Rock Forest displays an abundance of monstera deliciosa. Roots of these plants extend most wondrously along fissures in the rocks.
Daqikong
Daqikong Scenic Area is famous for Daqikong Bridge, Dream Pond, Natural Bridge, and Evil Wind Cave. Daqikong Bridge was built in 1877 along an important trade route between Guizhou and Guangxi in ancient China. 550 yards (502 meters) northeast of Daqikong Bridge is the lower reach of Dream Pond where many kinds of fish gather. At one time, local people earned a living by fishing, so the pond is always attached to the hope of harvest by the fishermen and to safety by their families. Nowadays, Dream Pond is an ideal place for anglers.
Natural Bridge and Evil Wind Cave are both works of art created by nature. Natural Bridge is honoured as "Oriental Arch of Triumph". It is originally the top of an underground river. In Late Quaternary Period (about 12 thousand years ago), as a result of uplift of the Earth's crust and undercutting of underground rivers, the top over the river partially collapsed. The remains finally form today's Natural Bridge. Similarly, Evil Wind Cave is a Karst cave formed by the corrosion of flowing water. At the entrance of the cave, waterfalls cause vibrating airflow, which formerly were considered as evil sounds by local people–so it is jokingly called Evil Wind Cave.
Shuichun River
Surrounded by overlapping mountains, Shuichun River is like a painted scroll. It is also a resort for rafting adventure. While rafting here, azure, clear rivers offer visitors feasts for the eyes, dense forests on both banks bring fresh air to breathe, and the alternation of rapid and slow flows gives visitors an unforgettable rafting experience. It takes 3 hours to travel all the way.